About Elk Meat
Until recently game or exotic meat was either too expensive or too hard to get. Deer meat and elk meat was either a hunter's or rich man's delicacy, but, we are changing that. Grande Premium Meats has become America's low-cost supplier of venison and elk meat, so now you can enjoy this terrific product anytime. Elk Steaks, roasts, burgers we have it all.
We raise and process the elk meat through our own contracted farmers and processors scattered throughout the United States. We can control the raising and the processing to meet our exacting specifications, making sure no growth additives or animal by-products are ever used.
Elk as a game meat must be cooked as rare as you can possibly take it. Since elk meat is so lean prolonged cooking will dry the meat losing a bit of flavor and tenderness. Marinates, or moist cooking methods can help for those who like to cook elk meat past medium.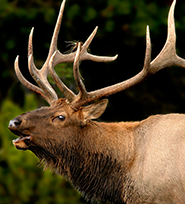 About Bison Meat
American Buffalo or, more correctly Bison, is one of the few original red meats eagerly sought out by the native Americans and pioneers who developed the old west. Almost hunted to extinction a hundred years ago, Buffalo are on the rise with literally 100's of thousands of animals now available to make delicious bison meat. Just a few years ago Bison was one of those special treats that was reserved for special occasions, but not anymore. Grande Premium Meats has become America's value leader for producing high quality, reasonably priced Buffalo meat at prices that almost everyone can afford.
While many tout the nutritional benefits of grass-fed Bison meat, nothing can beat the tenderness and flavor of a Grain-Finished animal with its robust delicious savor. The Grain-Finished Bison steaks might have a bit more fat and a bit less of the Omega 3 oils, but they are still much leaner that a comparable cut of beef. We offer a full range of Bison cuts from steaks, to roasts, to ground meat.
About Whitetail Deer Meat
Whitetail venison is farm raised and we process the deer meat through our contracted producers and processors scattered throughout the mid-western United States. We control the raising and the processing methods to meet our exacting specifications; we make sure no growth additives or animal byproducts are ever used.
Whitetail Venison Steaks, roasts, venison burgers; Grande Premium Meats has it all. Lean, bold and much more filling than any beef cut, Whitetail venison can be a delicious taste treat, lower in fat and cholesterol and higher in active protein, iron and many other the essential minerals. Simply, Whitetail deer meat is one of the most delicious, richest and leanest meat you can cook. Nothing will beat a flame-broiled rare venison steak, right off your grill, with a hint of salt.
Whitetail is a very lean game meat, venison must be cooked as rare as one can possibly stand it. Since Whitetail venison is so lean, cooking too long will dry the venison out, losing much of the flavor and most of the tenderness. Venison designed marinates or using moist cooking methods can help create a better venison eating experience for those who like to cook whitetail meat past medium.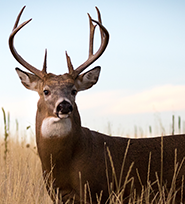 About Goat Meat
Goat Meat, also known as Chevon, Cabrito or Capretto is the very tender meat of young kid goats. The terms Chevon, Cabrito, Capretto and Goat Meat are names that can be used interchangeably, however, some cultures define cabrito is weaned or suckling goat, while Chevon or Capretto is the meat of an older yearling, weaned meat goat. Our goat meat is from 7 to 12-month-old, +/- 90 pound weanling Boer goats, the best goat meat producing animals of the species.
Young goat meat is prized for its lean, but tender and flavorful characteristics. While milder in flavor than lamb, goat is not as rich nor as greasy as lamb, yet still very juicy. Goat is especially rich in protein and iron but contains only a modest fat and cholesterol content making this meat a logical choice for a high protein low fat diet.
All meat goats are raised under all-natural conditions with never a hint of antibiotics to stimulate growth. We are America's value leader for producing high quality, reasonably priced young goat meat at prices that almost all can find affordable. So, whether you buy goat meat online or right from our retail ranch store, you know you will get a quality goat meat product at a fair price.
About Antler Chews
All-natural antler chews come predominately from Rocky Mountain Elk as well as deer species like mule deer, whitetail, red deer, moose, and fallow deer. These all drop their old hard antler in late winter and start growing new antlers (velvet antlers) each and every spring. Hard antler is an annually renewable crop providing a safe, all-natural antler chew treat for your dog.
Our antler chews are all-natural as they come from wild animals or from farmed animals that are never given any steroids, unnecessary antibiotics or other growth promoting chemicals. Natural antler dog chews are much longer lasting than rawhide or synthetic chew toys, even longer than raw bones. this is due to their high calcium content of these bone-like natural growths. Antlers contain many of the best nutrients that your dog craves. A great natural source for calcium, phosphorus, potassium, sodium, magnesium, iron, zinc & manganese.
Always use caution when first offering your dog antler chews. Supervise their activity so they do not attempt to swallow or break the antler. Always buy antler chews approximately proportionate to your dog's body size. Our sliced antler chews expose the marrow, which dogs love, but in turn reduces the time it takes for doggy to consume the dog chew. Sliced dog chews do however have a greater risk of splitting and sharp edges if very aggressively chewed.